Using job postings to find leads?
Automate it
Monitor signals in job postings to get opportunities, at scale.
Find companies using Hubspot recruiting a Marketing Director
Some of our happy customers
Recruiters
Find out who is hiring and get decision makers contact. At scale.
Sales
Contact your leads when they are ready to buy.
Growth
Automate your lead generation pipeline.
Get the best of job postings
Extract business signals from job offers
One platform for all
Jobs and Contact data
Advanced job search

Search jobs based on one or multiple keywords in the job title or description

Multi job boards

Retrieve jobs data from multiple job boards seamlessly - in one platform

Contact data

Get at the same time the contact data of your Buyer Persona

Automation

Receive new leads as soon as new job postings are published.
How it works
Receive Qualified Leads in 3 steps
Millions of companies tracked with their hirings, job postings, key stakeholders...
Step 1
Define your Ideal Customer
Specify jobs and recruitment you want to track. Filter companies by industries, fund raising, ... To match the perfect client.
Step 2
Define your Buyer Persona
Target the people who would buy your service or product, with their role or job title.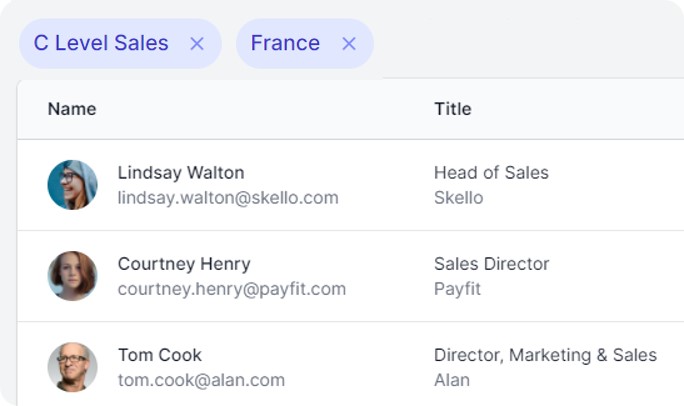 Step 3
Receive sales opportunities
Get notified as soon as a company correspond to your signal with buyer persona contact information.
Target only leads that matter, at scale
spared per day in lead searching

2h

Higher response rate

+60%

Business meetings booked

+40%
Get Started
Book a Demo.
You want to know more about our data? You have a specific request in mind? Let's discuss it together!